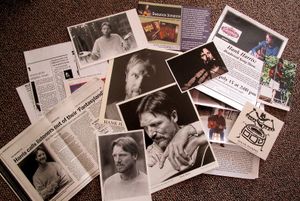 HANK HARRIS
Paul Henry Harris Jr is a South Dakota legend, commonly known as Hank Harris. He has played with The Red Willow Band, DD and the Fayrohs, and many more bands over a career that has spanned decades.
His work with the Deadwood Adams Museum included two CDs entitled Deadwood Songbook and an SDPB video nominated for a Midwest Emmy. He has also written soundtracks for two documentaries aired on Public Broadcasting.
As a solo artist, his gifted singing and songwriting have gained him many fans, both in the Black Hills and abroad.But there is another aspect of Hank unbeknownst to all but his closest friends.
Hank is also a gifted photographer. His interest in photography started as a youngster and continued throughout his many fine arts courses during his college career and into adulthood. Today, Hank's work with photography is as much a meditative practice as it is a pastime. His quirky eye and perspective make each photo a unique work of art, produced in limited quantities.