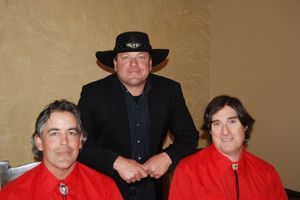 Dan Wills was born in San Francisco in 1963. He participated in grade school chorus, began piano lessons at age 9, picked up bass guitar as his main instrument at 14 and wrote his first 
song at 17. Over the years, garage bands came and went. In the early 1980's Dan found a nucleus he felt comfortable with and joined the 80's rock band, The Make.
The Make became a staple in the San Francisco Bay Area club scene. Over the next 10 years, The Make recorded 3 albums and as a contributing writer, Dan's songs received high level interest from record labels and music publishers as well as major market airplay. 
 
After the band's dissolution in 1996, Dan turned his attention to his solo career. "I took my six string, my dog, packed up my truck and headed for Mardi Gras." Dan's travels revealed a new 
state of Americana and yielded his first solo compilation "Nobody's Hero" released in 1999. This effort introduced the new spirit and raw emotion of Dan's work and paved the way for his vibrant West Coast country style music. That style has not been more evident than in his spring 2003 album release, "Western 
Summer", which within the first few weeks of its release received radio airplay across Europe and the United States. 
 
In May 2012, Dan Wills, along with bassist Dave Doucet & drummer Paul Navarro formed Dan Wills & The Demon 2, a country trio band based out of the San Francisco Bay Area. The trio utilized their versatile lineup to offer a fresh, unique approach to what they describe as an "authentic vintage experience."
In 2015, the trio released the album "Trails Ablaze". Wills states, "I really wanted to do a real, raw record without a lot of overdubs."
The band's repertoire features a widely varied collection of vintage country music including songs by the likes of Johnny Cash, Marty Robbins, Charlie 
Pride & more; as well as originals written primarily by Wills. No classic rock, jazz or top 40 here; 
just pure unadulterated vintage country.